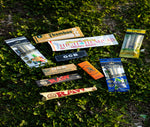 It's currently easier than ever to obtain the best smoking equipment and accessories. Like many commercial products nowadays, a large lot of retailers and stores have opened online so that you can shop from the comfort of your home. You need to simply open your computer and explore online to find possibly countless bongs of all types from across the globe.
Not only bongs are being sought after. People are searching for fresh and exciting ways to utilize their tobaccos and herbs. The need to smoke with style is driving consumers to new and sophisticated products. So it's crucial to stay up to date on the latest and most creative stuff. Online head shops and smoking stores allow you to order all of these accessories with a single click. You need excellent recognized rolling papers, not just any old ones. If you want to master your roll, you need premium quality papers. Many smoking establishments provide a variety of flavored rolling papers as well as plain ones to enhance your cigarette experience. So, if you're love smoking, you can enjoy the grandeur of smoking etiquette.
Whatever smoking equipment you need, you can certainly find it on the internet at Stoned Genie headshop. They also offer bongs, smoking pipes, glass pipes, dab rigs, and vaporizers. Each has its own fan base. It's obvious why people prefer bongs. A bong can be made of glass, plastic, or metal. But glass bongs are where you can truly admire the creative ingenuity. They include percolators, which aid in the filtering process and give users with better output. You can also see the amazing variety of affordable smoking pipes sold by the best online headshops.