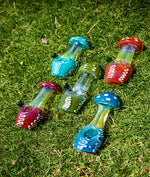 As a genuine smoking lover, you recognize that the little nuances can have the greatest influence and you have an obligation to your smoking gadgets to keep them hygienic, comfortable, and ready to roll. This is why it's crucial to ensure that you have all of the right accessories whenever you install your new equipment.
Why smoking accessories are essential?
When searching for a new smoking accessory, one will be bewildered by the plethora of unlimited alternatives offered at the online headshop. Although, smokers choose any form of smoking accessories such as glass pipes as it is chemical-free, making it a safe smoking accessory that may conveniently suit your lifestyle. Furthermore, glass materials are simple to clean and toxic-free.
If you are a smoker, you want to do it well. Taking full advantage of your smoking experience, you are likely to need the correct set of tools and features. Whether you are tobacco, cannabis, or hemp smoker, there is a definite set of smoking accessories anyone must-have, regardless of the personal smoking choice.
Having the appropriate smoking accessories may broaden and enhance your smokey flavor. For seasoned smokers, you're pretty familiar with the many alternatives, but for those of you beginner to smoking, it may often be somewhat intimidating to get to know what's available on the market.
Where and why should one purchase the right pipe and other smoking accessories?
There is no need to be concerned, however, because, at the most affordable online headshop Stoned Genie, you can discover the perfect, high-quality smoking accessories such as glass pipes, glass bongs, dab rigs, grinders, bubblers, bangers, rolling papers, and rolling trays to propel your collection forward. Additionally, they make a real effort to retain their collection abreast of the latest and coolest items, making it easy to stay on top of the hottest latest styles.
If you've only recently begun your connoisseur collection, you're in the correct place to add additional items and transform your package into the complete toolkit you've been thinking of.
Smokers use Glass smoking pipes worldwide, making them among the most famous pieces on the market. Whether you're pressed for time or have the entire day at your disposal, a bowl of your favorite herb is certain to be relished in your equally favorable pipe.
A dependable and customized glass-smoking pipe is one that you can safely handle and use in your daily routine. A new glass pipe is precisely what you need for an unforgettable smoking session with tobacco or herb!
When shopping for your new glass pipe, check for one that is the ideal size and efficiency for your needs. Pipes come in a variety of various designs, so you must filter through the seemingly endless options.